Pope Benedict XVI's U.K. Visit A Big Event?
By Reema, Gaea News Network
Wednesday, September 15, 2010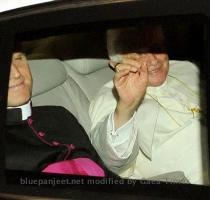 more images
LONDON, UNITED KINGDOM (Gaeatimes.com)- On Tuesday, the head of the Roman Catholic Church in England and Wales mentioned to media sources that smaller number of people are expected to attend the scheduled visit of Pope Benedict XVI. While the initial estimation by the organizers held that around 80,000 people will be attending the beatification of Cardinal Newman on Sunday in Birmingham, on Tuesday the numbers dropped to 55,000. It is the first visit of Pope Benedict XVI to the country and the organizers are trying their best to make it a grand event.
However, it is not only at the Sunday ceremony of the beatification of Cardinal Newman that the footfall will be less than what is expected but also at Glasgow's Bellahouston Park where an open-air mass is scheduled to be held. The organizers said, the footfall will be much less than what was registered in 1982 at the mass given by Pope John Paul II. However, they added readily that it is not because of the lack of interest among people about the visit of Pope Benedict XVI but because of some natural changes in the Park. The organizer maintained that while at the time of Pope John Paul II's visit there were less number of trees in the park leading to better sight lines, this time many trees have grown in heights restricting sight lines.
Although the organizers maintained that it is not the lack of interest of the people regarding the visit of Pope Benedict XVI that has lessened the estimated numbers, some media sources claimed that a poll has found only 14 percent people to be interested in the visit.