Durga Puja Countdown Begins
By Arnab Ghosh, Gaea News Network
Thursday, October 7, 2010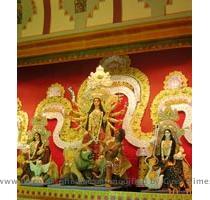 more images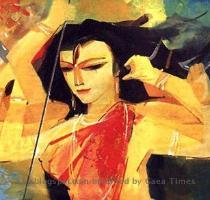 more images
KOLKATA, INDIA (GaeaTimes.com)- The countdown for Durga Puja the biggest festival for the Bengalis has started. The Puja this year will begin on October 14 and conclude on Oct 19th. This is a festival millions of people wait for the whole year. While lots of money is spent after the Puja all over west Bengal each year the idol immersion and rampant usage of electricity results in severe environmental pollution. The huge number of idols are generally immersed in the Ganges and the lead in paint and other pollutant materials used in making the idols makes the water polluted which finally takes a toll on the ecology. That is why the environment and pollution control bodies of the state government has woken up this year and the major Durga Puja organizers have been asked to use green energy as much as possible and use recyclable materials in their Pujas.
The Durga Puja organizers have also been asked to resort to LED lights for decoration. The idols in many places have been painted with eco friendly paints. Over 200 Durga Puja organizers from Kolkata as well as adjoining suburbs like Chuchura and Chandernagore have also selected lead free paints for the Puja as it has been reported. The paints used in Kumartuli usually have a higher level of lead.
The West Bengal Green Energy Development Corporation Ltd has also urged the Durga Puja organizers across the state to use solar lights to reduce the burden on the thermal power stations. The electricity plants in West Bengal are already loaded with riding demand and in the pujas things tend to go out of hand.