Guru Nanak's Birthday Being Celebrated Today
By Naiwrita Sinha, Gaea News Network
Sunday, November 21, 2010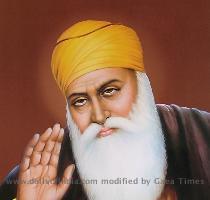 NEW DELHI, INDIA (GaeaTimes.com) The auspicious occasion of Guru Nanak's birthday or Guru Nanak Jayanti is being celebrated all over the nation in high spirits. This year in 2010, it marks the Sikh guru's 541 birthday.
On the eve of this holy event, the country got the wishes of the Prime Minister Dr. Manmohan Singh. The Prime Minister sent out his heart felt wishes to all the citizens of India. The President, Pratibha Devisingh Patil, Vice President M. Hamid Ansari along with Governor N. N. Vohra are also among the other eminent persons to lend their wishes to all the fellow country men. Other leaders of various political parties were also seen greeting citizens of India. The President added in her wishes that she sincerely hopes that all of us should take learnings from the preachings of the great guru. In this present situation of 2010, when the world is so full of anti-social activities and surrounded by negative energies, the lessons of Guru Nanak is perhaps the best way to eradicate all these problems. Vice President M. Hamid Ansari, too said that to combat the difficulties of the present day, rendering the self to the teachings of this great saint is one of the best way out. This will perhaps be the best way to celebrate Guru Nanak's birthday.
The first of the ten Sikh gurus was born in 1469, in Nankana Sahib which is now in present day Pakistan. On November 21, 2010, remembering the founder of Sikhism, preparations have been made accordingly in Amritsar and Chandigarh. Guru Nanak's birthday's is being celebrated over there in the traditional way, not only in the Golden Temple but even in schools and colleges including Punjab University.