Popemobile Upgraded to Carry Pope Bedict
By Mayuri, Gaea News Network
Thursday, September 16, 2010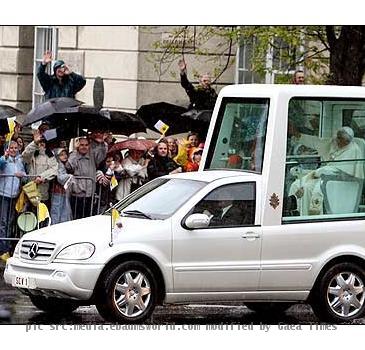 LONDON (GaeaTimes.com) — The iconic popemobile will be seen today ravishing the streets of Britain as it will carry 83 year old Pope Bendict XIV. The German made Popemobile is designed with the latest features to ensure total security to the Pope and will give an opportunity to the people to watch the great man moving through the street.
I know whats on your mind. You are just wandering what is a popemobile? Is an informal name given to a vehicle that is specially designed to carry the Pope when he wants to make outdoor appearances and greet a huge crowd. This time Pope Bendict will come to the public in UK in a specially designed popemobile that is a modified Mercedes M-class vehicle. The cost of this iconic car is around $75,000.
The popemobile carried enclosed the Pope in a bullet proof transparent glass from he he waved happily to the onlookers. He sat in an elevated chair and the driver of the car is chosen by the local authorities. Apart from the Pope and the driver there is also room for a security guard and two papal aids in the popemobile.
Pope Bendict traveled from Holyrood Palace to Princes Street. After the assassination of Pope John Paul II, then popemobiles are enclosed within bullet-proof glass to ensure full security. Other details and features of the car are not revealed due to security issues.