Hajj Marks Million Pilgrims
By Madhusmita, Gaea News Network
Tuesday, November 16, 2010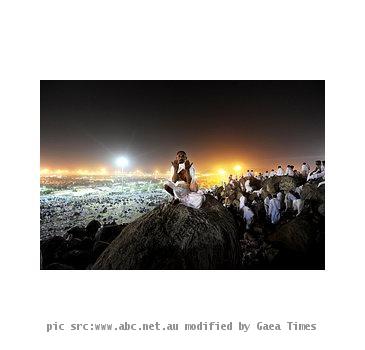 more images
MECCA(GaeaTimes.com)- Hajj is the annual pilgrimage of Muslims to Mecca which takes place from the 8th to 12th day of Dhu al-Hijjah, the last month of Muslim calender. Ed al Adha is one of the most auspicious religious events of Muslim Community during this time millions of Muslims flock in Mecca to ask for forgiveness for their sins and answer God's call. Ayatollah Seyyed Ali Khamenei, the leader of Islamic Revolution described Hajj as a symbol of "monotheism and spirituality".
Ayatollah Seyyed Ali Khamenei, in one his interviews said that during the Hajj season the "enthusiastic and hopeful" people "converge" on Islam's birthplace from different part of the world to respond "God Almighty's invitation". The Iranian politician released a statement where it was stated that the pilgrims who have gathered in the holy place to become familiar with the "tremendous" and unique asset of Islam. The Islamic leader also said that the growing popularity of Islam heralds glorious future of the Muslim community. However, in his statement he criticized United States' steps against Iraq.
A reputed media source reported that there are at least 2 million pilgrims descending from the Mount Arafat on their journey to Mecca. Mount Arafat is considered to be Prophet Mohammed's last sermon. The eyewitnesses reported that most of the pilgrims chant words like "Oh God, here we come" while they are on their journey to Mecca. This year there will be tight security as the Saudi Arabic Government has taken steps so that people do not die in stampedes. The media outlets have report that this year there is a record breaking attendance in Hajj as the pilgrims have gathered to answer God's call.