Jew Fraternity Celebrates Happy Hannukkah 2010
By Turjo, Gaea News Network
Wednesday, December 1, 2010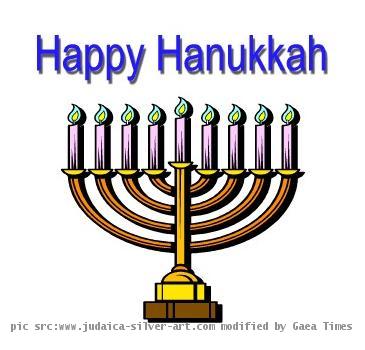 more images
BROOME COUNTY, PENNSYLVANIA (GaeaTimes.com) — On Wednesday, starting from sundown, Jew fraternity from the Southern tier has come together to celebrate the holy festival of Lights, Hanukkah. For the next eight day, Jewish families will observe this great festival with great joy and harmony.
Hanukkah, or the Chanukkah, celebrates the re-dedication of the Temple in Jerusalem in 165 B.C. after a successful Jewish revolt against foreigners who had seized the sacred site. This festival also stands for the famous Jewish belief which includes a miracle involving a flame and lamp while the ancient Temple was purified for Jewish worship. According to Rabbi Levi Slonim of the Chabad Center for Jewish Student Life at Binghamton University -
A central aspect of the Chanukkah saga involves the miraculous burning of one small cruse of oil for eight days when it should have been enough to illuminate the lamp in the newly dedicated Temple for only one day
So, each night of Hanukkha, Jewish families light an individual candle on a Menorah.
Now-a-days, people of all faiths consider the Chanukkah holiday as a symbol and message of the triumph of freedom over oppression, of spirit over matter, of light over darkness.