Hanukkah Begins
By Tias, Gaea News Network
Thursday, December 2, 2010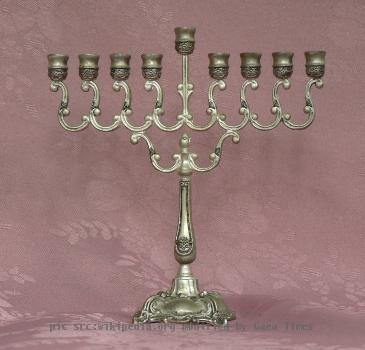 more images
WASHINGTON, (GaeaTimes.com)- Today marks the beginning of the Jewish 'Festival of Lights', Hanukkah. The festival is, however, not just restricted to the Jews as people of all races, religion and communities participate in the celebrations. Families get together and light hundreds of candles and enjoy hearty traditional Jewish feasts.
Video producer Elizabeth Tenety explains that it is time to put on the yarmulke and enjoy the ancient Jewish festival. She explained that Hanukkah celebrated the re-dedication of the temple in Jerusalem and it began on Wednesday after sundown. Author Jim Shahin spoke about the traditional potato pancake, the Latke, and said that this year he was thinking of adding a new twist to the recipe. The Latke is seen on the Jewish dining at some point or the other during the 8 day festival and Jim Shahin said that as Hanukkah approached, he thought of doing something new to it. He explained that he thought of barbecuing the Latke after consulting with his Arab-American friend.
Rabbi Brad Hirschfield spoke in a video message and spoke about how this year's Hanukkah is a special one. He said that while the people across the country got ready to celebrate the Hanukkah 5711 on the Jewish calendar, we are also wrapping up the first decade of the 21st century. He said that the decade was a special one as there had been several world changing events and even the present state of the economy has left several people wondering how they could bring about another Great Depression. He compared the lives of the people with the Hanukkah top called dreidel which spun faster and faster with every passing day of the decade.