Muharram Being Observed Today
By Swatilekha Paul, Gaea News Network
Friday, December 17, 2010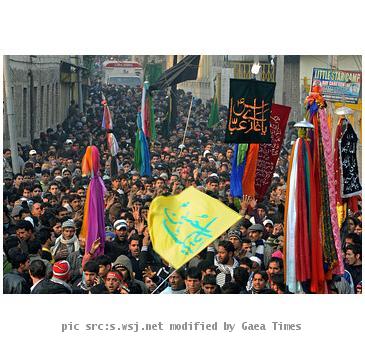 more images
AHMEDABAD, INDIA (GaeaTimes.com)- The occasion of Muharram is being observed in many parts of the country on Friday with mourning processions being taken out in a number of cities all over India. While a curfew has been declared in many parts of the Jammu & Kashmir's capital Srinagar to avoid any uncalled for incident, in the rest of the nation, the day is being observed with morning processions to commemorate the sacrifices made by Hazrat Iman Hussein along with his other companions. Being a public holiday, all schools, colleges as well as government offices would remain shut on Friday.
In the city of Ahmedabad, Muharram would be observed with a massive mourning procession that would be taken out today which would include a beautifully crafted tazia that is likely to witness a huge turnout. The route that the mourning procession would follow has been intricately planned by the city authorities while certain important locations have also been marked where the security is likely to be beefed up. While talking about the steps that have been undertaken by the city officials to thwart any undesirable incident, Police Commissioner Amitabh Pathak has said that 92 significant tazia has been identified by the authorities that would be part of the procession routes on Friday.
In the meanwhile, the police commissioner also reiterated that the traffic movement along the route of the Muharram mourning procession would be diverted from Friday afternoon till midnight. At the same time, large number of security personnel would be deployed along the procession route to ensure that the law and order situation is under control, the police chief went on to add.