Muharram Being Observed In Pakistan
By Swatilekha Paul, Gaea News Network
Friday, December 17, 2010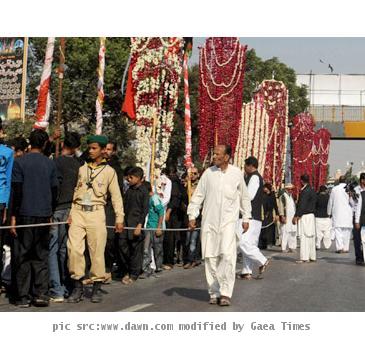 more images
KARACHI, PAKISTAN (GaeaTimes.com)- Like every year, the city of Karachi in Pakistan was witness to a mourning procession on Thursday to commemorate the occasion of Muharram which honors the sacrifices that were made by Hazrat Iman Hussein and his companions. The mourning procession that was carried out in Karachi commenced from Nishtar Park and after crossing the routes that had been chalked out, ultimately it reached its conclusion at the Imambargah Hussainian Iranian, Kharadar. Thousands of people turned up for the event which was held under tight security to keep at bay any kind of untoward incident.
As the Muharram procession followed its route along with the thousands of attendees, large number of police officials as well as Rangers were deployed throughout the path to provide maximum security to the mourners participating in the event. Apart from the government security personnels who were present at the event, an estimated 5,000 people hailing from Shia organizations were kept at vigil throughout the procession route. At the same time, in order to minimize any kind of confusion and ensure the smooth flow of the event, entry points were allocated at various zones along the route to enable the mourners to join the procession.
In the meanwhile, the security officials are keeping no stones unturned to make sure that the Muhurram processions that will be taken out across the country today on the tenth day of the month of Muharram is held peacefully. Apart from the security officials, bomb disposal squad and sniffer dogs have been deployed at various points of the procession route to avoid any undesirable incident.