Shab-E-Meraj Celebrations Start Today
By Sayanee, Gaea News Network
Friday, July 9, 2010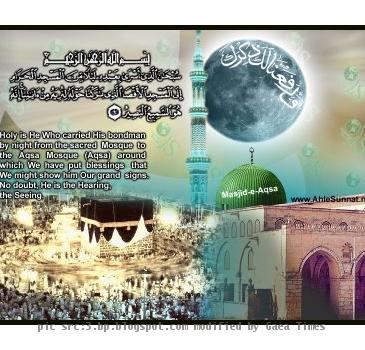 more images
HYDERABAD, INDIA (GaeaTimes.com)- It is the 9th of July today and Muslims all over India and the world have a reason to celebrate. In a statement issued by the National Moon Sighting Committee in Dhaka, the moon of Rajab has been seen in the skies today, and hence like every year, today has been declared as the Shab-e-Meraj.
The celebrations of Shab-e-Meraj begin tonight with every Muslim devotee offering the special Esha prayer in honor of their ancestors. 'Meraj' is the Urdu equivalent of 'a night journey,' and it is said that it was on this night that the Prophet Muhammad made a journey to earth traversing the seven skies. According to tradition, the Shab-e-Meraj is the day when Muslims visit the graves of their ancestors and their well wishers in order to pay respect to the dead, in turn seeking the blessing of their forefathers through the recital of the Esha prayers.
Keeping in mind the extremely volatile conditions that the Muslim community have to live in these days, the Regional Police Officers in Hyderabad and the Sukkur and Capital City Police Officer in Karachi have arranged for proper security measures to be adopted in India and Pakistan respectively, so that the Muslims who visit mosques during the night to offer prayers, can do so without fear of any attack. In fact high alerts have been declared in many places all over the country on the eve of Shab-e-Meraj. The security measures will be strictly adopted in areas where there are mosques, imambargas and other religious places of Muslim worship.