Obama and family set out for summer vacation on Martha's Vineyard
By Erica Werner, AP
Thursday, August 19, 2010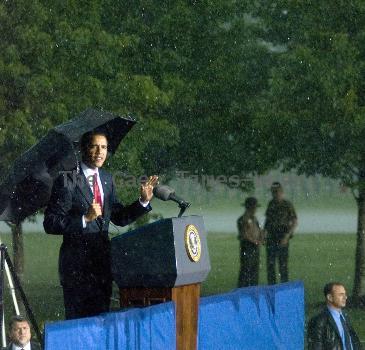 more images
R&R time for Obamas on Martha's Vineyard
VINEYARD HAVEN, Mass. — Fleeing the heat and headaches of the capital, President Barack Obama arrived on Martha's Vineyard Thursday for a 10-day vacation - and a chance to rest up for the coming fight for control of Congress.
Obama landed at the airport on this island off Massachusetts after an Air Force One flight from Washington to a Coast Guard station on Cape Cod, then a short helicopter ride across Vineyard Sound.
Arriving under sunny skies, Obama - ditching his tie and jacket - greeted well-wishers at the airport, then motorcaded to the rented compound he, his wife Michelle and daughters Malia and Sasha are staying at.
The first lady and the two girls traveled separately to the island and were waiting for him at Blue Heron Farm, the same multimillion-dollar property where they spent a part of last August.
Completing the picture: Bo, the family dog, who rode on Air Force One, happily roaming the aisles of the presidential jet. Also on board were a small group of aides including senior adviser Valerie Jarrett, who has a house on Martha's Vineyard.
Aides say Obama is looking to recharge his batteries after a strenuous start to a tumultuous year, which saw him win passage of his health care and financial market overhauls, but also saw his poll numbers slump as the economic recovery slowed.
Obama left Washington with one more pre-vacation blast at the GOP - for blocking a Senate vote on a small business aid package.
"It's obstruction that stands in the way of small business owners getting the loans and the tax cuts that they need to prosper," he said outside the White House. "It's obstruction that defies common sense."
Obama has been criticized for vacationing a second straight summer on this upscale resort island, especially when so many Americans are out of work. But aides said he's earned the respite.
"Just like a lot of American people, the president is taking a little time with his family to recharge his batteries," deputy press secretary Bill Burton told reporters.
The long-awaited vacation comes after a hectic three-day fundraising and speechmaking sprint across the country and with new poll numbers showing Americans none too pleased with Obama's handling of the economy as crucial midterm elections approach.
There's also the broiling controversy over a proposed mosque near ground zero, which Obama elevated last week by saying Muslims have the right to build in New York, a position a number of fellow Democrats are avoiding. Plus, a new poll showed a rise to 18 percent in the number of Americans who wrongly believe Obama is Muslim. The survey was taken by the Pew Research Center and Pew Forum on Religion & Public Life before Obama's comments.
White House aides were mystified by the results.
"The president is obviously - he's Christian. He prays every day," Burton told reporters. "He communicates with his religious adviser every single day. There's a group of pastors that he takes counsel from on a regular basis. His faith is very important to him but it's not something that's a topic of conversation every single day."
Continued high unemployment might seem to argue against an extended vacation at an exclusive island out of reach for most Americans. First lady Michelle Obama took flak over her recent jaunt to Spain. But Burton said voters wouldn't begrudge their president some down time.
"I don't think there's an American person who doesn't know that the president is working hard to do everything possible to get this economy back on the right track," Burton said.
Burton also noted that any time a president goes on vacation, the word "vacation" has to be in quotes, because the responsibilities of the office don't take time off. A battery of aides is accompanying the president to Martha's Vineyard, where he'll continue to receive his daily intelligence and other briefings.
Then there's the unexpected. Last summer while on Martha's Vineyard, Obama nominated Ben Bernanke to a second term as Federal Reserve chairman to quiet speculation about the appointment. He also went to Boston to eulogize his friend and former colleague, Sen. Edward M. Kennedy, D-Mass.
Obama is the third sitting president to spend time on Martha's Vineyard. Bill Clinton vacationed there often, and long before that, so did Ulysses S. Grant.
Obama's summer trip will be his ninth vacation since taking office. By the time his trip to the Vineyard is complete, he'll have spent 48 days on vacation as president, according to Mark Knoller, a CBS News reporter the White House recognizes for his record-keeping.