British, Irish premiers work to salvage Northern Ireland's Catholic-Protestant government
By Shawn Pogatchnik, AP
Tuesday, January 26, 2010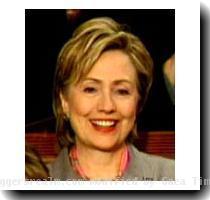 more images
British, Irish seek to save NIreland government
HILLSBOROUGH, Northern Ireland — The prime ministers of Britain and Ireland presented rival Catholic and Protestant leaders with last-ditch proposals Tuesday designed to keep their power-sharing government from unraveling.
The 2 1/2-year-old coalition at the heart of Northern Ireland peacemaking is on the brink of collapse following a long-running dispute over when it will take responsibility from Britain for the province's police and justice system.
The Irish Catholics of Sinn Fein say the move is years overdue — and are threatening to withdraw from the coalition, triggering its destruction, unless the British Protestants of the Democratic Unionist Party stop vetoing the objective.
The prime ministers, Gordon Brown of Britain and Brian Cowen of Ireland, also want the Protestants to stop stalling, as does U.S. Secretary of State Hillary Clinton, who telephoned Brown and Sinn Fein leaders during the course of Tuesday's negotiations.
But the Democratic Unionists countered that they wouldn't cave in to outside pressure or artificial deadlines posed by anyone.
"If it isn't a good deal, whether the (British) prime minister is here or not, it won't make a difference to us," Democratic Unionist leader Peter Robinson said.
The prime ministers, determined not to leave Northern Ireland without a breakthrough, planned to keep talking past midnight for a second straight night and make a final push for agreement Wednesday. Both were staying at the Hillsborough Castle negotiating venue southwest of Belfast.
Throughout Tuesday's negotiations, the Democratic Unionists held out for their own controversial concessions, particularly the right of Protestant groups to resume marching near hostile Sinn Fein districts. Britain has curtailed that explosive tradition over the past decade with a powerful Parades Commission that the Protestants want abolished.
The British and Irish governments presented a compromise plan that, while gap-filled and incomplete, seeks to give both Sinn Fein and the Democratic Unionists part of what they both want.
The documents offered a choice of options. These included a potential May target date for transferring justice powers, and a successor organization for the Parades Commission that would stress mediation between Protestant marching groups and their Catholic opponents. The existing commission imposes restrictions on parade routes but doesn't mediate between the sides.
"What's going on in there is an exchange of ideas. There are many ideas being discussed, and this is very much a work in progress," said Britain's secretary of state for Northern Ireland, Shaun Woodward, who has the castle as his official residence. "Everybody is focused on what's at stake."
Later, the governments let international TV crews in to film the premiers and the Sinn Fein and Democratic Unionist delegations chatting and joking around a long conference table. Robinson could be heard making small talk with his Sinn Fein deputy in the government, Martin McGuinness, about their sports allegiances.
Northern Ireland's U.S.-brokered Good Friday peace accord of 1998 proposed power-sharing between majority Protestants and minority Catholics as the best way to end a conflict that had claimed more than 3,600 lives since the late 1960s.
While paramilitary cease-fires since the mid-1990s have ensured a fragile peace, power-sharing itself has lurched from crisis to crisis.
The current Sinn Fein-Democratic Unionist showdown has flared now, in part, because of both parties' ambitions and anxieties as a British general election looms within five months. Northern Ireland politicians typically adopt harder-line positions for campaign purposes.
Sinn Fein negotiators accuse the Protestant side of trying to stall all progress until after the election, when Brown is widely expected to be ousted from power by Conservative Party leader David Cameron. The Conservatives infuriated Sinn Fein by meeting this month in secret with Northern Ireland's Protestant lawmakers to explore a possible election pact.
Sinn Fein negotiator Conor Murphy said his party had entered power-sharing in expectation of helping to oversee Northern Ireland's agencies of law and order — a system that Sinn Fein's Irish Republican Army allies sought to destroy before its 1997 cease-fire. He said the Democratic Unionists had vetoed the step for too long.
"I think the DUP (Democratic Unionists) would like to keep sitting around tables for the next five years without any movement on any issues," Murphy said. "We're rapidly reaching the point where decisions have to be taken, and that's in a matter of hours rather than days."
A Sinn Fein withdrawal would force an early election on the 108-member Northern Ireland Assembly that provides the foundation for power-sharing. Analysts warn that vote would be likely to produce a more divided, polarized Assembly and make power-sharing harder to resurrect.