Green globe: 70 million Irish at home, abroad cheer St. Patrick's Day from Sydney to San Fran
By Shawn Pogatchnik, AP
Wednesday, March 17, 2010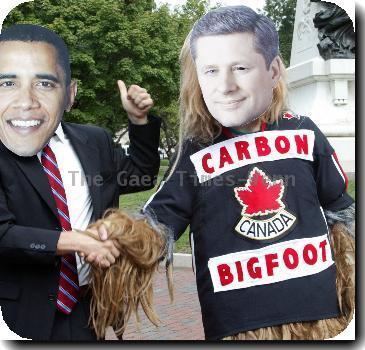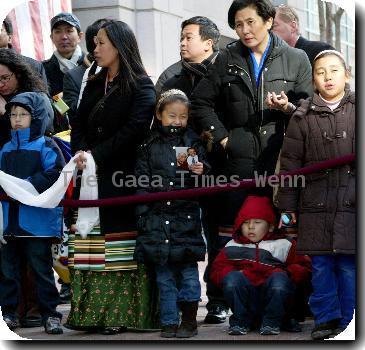 Irish at home, worldwide cheer St. Patrick's Day
DUBLIN — Much of the world is turning green Wednesday for St. Patrick's Day, the annual celebration of all hues of Irishness.
More than a half-million people lined the 3-kilometer (2-mile) route of the flagship Dublin parade beneath unusually sunny skies in this wet, windy land. The parade's theme "The Extraordinary World" celebrated Ireland's increasing multiculturalism as well as the global spread of the Irish. patrick
Mixed in with the usual displays of U.S. marching bands and Irish sporting heroes were dancing troupes from Africa and India, bands from Austria and France, giant insect floats from Spain, and Dubliners dancing with mops and dusters.
The biggest laughs came from Waterford's entry: man-sized eggs with legs fighting bakers armed with wooden spoons. A singer standing in the middle of a massive frying pan and atop a similarly oversized fried egg belted out renditions of "Do the Funky Chicken" and "Ain't Nobody Here But Us Chickens."
This year Ireland is pushing itself especially hard as a tourist destination as the country faces its worst recession since the Great Depression, with double-digit unemployment and net emigration back for the first time in 15 years.
St. Patrick's Day is Ireland's first major tourist event of the year, packing hotels and pubs with visitors seeking an all-night party. Ireland's weeklong festival gets bigger each year, with more than 100 parades Wednesday in cities, towns and villages across the island of 6 million.
The Tourism Ireland agency wangled a deal for major world landmarks — including the Sydney Opera House, London Eye, Toronto's CN Tower and New York's Empire State Building — to be bathed in green floodlights as part of a marketing push on four continents.
The parade in New York — the biggest of hundreds taking place throughout North America — was stepping off on Fifth Avenue with New York Police Commissioner Raymond Kelly as grand marshal. The parade featured New York's famous "Fighting 69th," a U.S. Army regiment that began life as part of the Union Army's "Irish Brigade" during the U.S. Civil War.
Reflecting the traditional bond between Roman Catholicism and Irish nationalism, leaders in both countries — Irish President Mary McAleese in Dublin, and Gov. David Paterson and Mayor Michael Bloomberg in New York — attended morning Mass before the parades.
As many as a quarter-million marchers were ready to head up Manhattan's Fifth Avenue, just as crowds gathered along parade routes in cities around the country to mark the emerald-hued holiday.
The celebration of Irish heritage and culture in New York includes bands, bagpipes and grand marshal Ray Kelly, the city's police commissioner.
Phil Giovanniello, an Air Force military police officer on leave from Iraq, leaned over the police barricades near the start of the route at 44th Street, smoking a cigar and taking in the sea of green.
"This is my first parade," said Giovanniello, of Rochester. "And it feels great."
Virtually the entire Irish government left the country this week to press the flesh of foreign leaders and corporate kingpins in 23 countries, particularly in the United States, in hopes of rekindling the investment wave that fueled Ireland's lost Celtic Tiger boom of 1994-2007.
Prime Minister Brian Cowen was meeting U.S. President Barack Obama at the White House, continuing Ireland's unique tradition of annual access to the most powerful man on earth.
McAleese, guest of honor for Dublin's two-hour parade, said the Irish had powerful allies in politics and business backed by 70 million people of Irish descent, half of them Americans.
"We are lucky to have such a large global family. It has proved itself to be a very precious and important resource in every generation," she said.
The Catholic Church in Ireland faced this St. Patrick's Day under unprecedented pressure over its reluctant admissions of covering up child abuse for decades.
Irish Cardinal Sean Brady — facing calls to resign over his admission that he collected evidence from victims of a pedophile priest in 1975 but never told police — declared in a sermon broadcast live nationwide that he was "ashamed that I have not always upheld the values that I profess and believe in." Several hundred faithful inside St. Patrick's Cathedral in Armagh, Northern Ireland, gave him a standing ovation.
Other Irish Catholic leaders sought to remind revelers of the true story of Patrick: a Briton enslaved in his youth in Ireland who returned to spread Christianity throughout the pagan land in the 5th Century.
Bishop Seamus Hegarty called for prayers for immigrants — both the Irish seeking jobs overseas and the Emerald Isle's own tens of thousands of newcomers from Eastern Europe, Africa and Asia who often work the longest hours for least pay.
"Mindful that St. Patrick was himself a migrant, we as a people are called to build a society that is truly inclusive, a society that is welcoming and respectful of people of different cultures, languages and traditions," Hegarty said.
On the Net:
Tourism Ireland's St. Patrick's campaign, tinyurl.com/yhd8hsn
St. Patrick's Festival in Ireland, www.stpatricksfestival.ie/cms/events.html
Filed under:
Christianity
,
Religion
Tags:
Barack Obama
,
Dublin
,
Europe
,
Holidays
,
Ireland
,
Leisure Travel
,
New York
,
New York City
,
North America
,
Occasions
,
Religious Issues
,
St. patrick
,
United States
,
Western Europe