Chhath Puja Being Celebrated Today
By Swatilekha Paul, Gaea News Network
Friday, November 12, 2010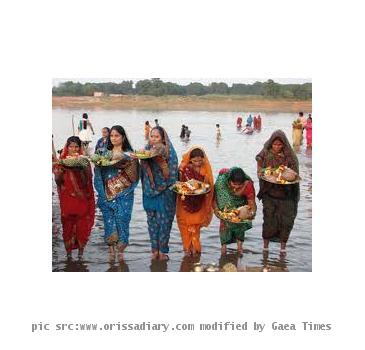 more images
PATNA, INDIA (GaeaTimes.com)- The festivities of Chhath Puja commenced across the country today with people from different states gearing up to participate in the three-day festival. In states across the nation especially in the northern parts of the country, the festival of 'Chhath Puja,' which is observed in the Kartik month in the sixth day of the 'Shukla Paksh', is celebrated with much elan. The Ganges ghats across the country wear a festive look as devotees gather in large number to offer their prayers to Sun to ensure well-being, prosperity as well as progress.
With people all across the nation all set to enjoy the festive days of Chhath Puja to the fullest, even the politicians were not left far behind as many of them observed fasts and also indulged in prayers on the auspicious occasion. Despite the polling season being on in Bihar, both Chief Minister Nitish Kumar and rival Lalu Prasad Yadav were seen getting engrossed in the festivities as they prepared to spend time with family members as well as close friends. When a reporter asked the RJD supremo about how confident he was about winning the elections, the leader brushed away the questions saying "Please, no politics, it is Chhath."
The scenario is more or less the same for Bihar Chief Minister Nitish Kumar with a close aide of the of the CM reiterating that Janata Dal leader is taking few days off this weekend in order to celebrate Chhath Puja with his family. The officials further added that the residence of the Bihar CM wore a festive look with all his family members getting together to celebrate the festival.