Navaratri 2010 Starts Today
By Reema, Gaea News Network
Friday, October 8, 2010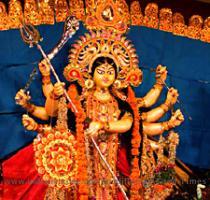 (GaeaTimes.com)- The Navaratri 2010 festival kickstarts from today and the ten day long festival will see its closure on October 18. Navaratri, which in Sanskrit means nine nights, is dedicated to Shakti, represented by Goddess Durga. This is one of the most important festivals in India, which is celebrated in many stated.
Navaratri 2010 began from "pratipada", which is the first day of the month of Ashwin, which is the sixth month in the Indian lunar calender. It normally coincides with the month of October in the English Calender.
Navaratri 2010 will be the most important annual festival of two sates, namely, Bengal and Gujarat. But it will also be celebrated in other states like Karnataka, Kerala, Maharashtra and Tamil Nadu. During these nine days of Navaratri 2010, nine forms of Shakti will be worshiped. Each state has its fetish for one form of the Goddess. The form of he deity varies from region to region and custom to custom. Although, there are more than a hundred forms of Shakti, the main nine forms which are worshiped during Navaratri are, Durga, Bhadrakali, Jagdamba, Annapurna, Sarvamangala, Bhairavi, Chandika, Latika,
Bhavani and Mookambika. In most cases, the prayer is offered to the form of Durga.
Navaratri 2010 will last for nine days in north India, where a nine day fast will be observed. Gujarat will celebrate the festival with nine days of Garba and Dandiya dance, which lasts till the late night for all the nine days. In West Bengal, the festival will be celebrated in the penultimate five days of the festival, namely, Shashti, Shaptami, Ashtami, Navami and Dasami. In South India, the temples and the streets will be adorned with the idols of Maa Durga, which is called "Golu". Navaratri 2010 will conclude on Vijaya Dasami, on Oct 19, which is the tenth day of the month of Ashwin.