Sankranti Spirit Grips India
By Arnab Ghosh, Gaea News Network
Saturday, January 15, 2011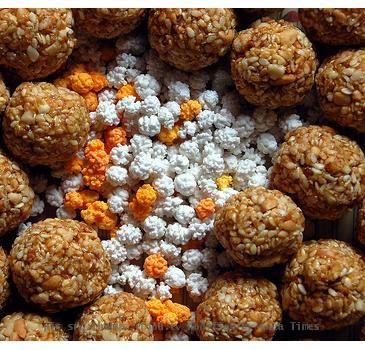 more images
MUMBAI, INDIA (GaeaTimes.com)- The Indians are still enjoying the festive flavor of Makar Sankranti, the harvest festival that has sent celebration mood countrywide. The fact that it comes at the same time with Pongal, a major South Indian festive event, has spread the joy and spirit among Indians even more. People are expecting a dip in the price of the vegetables including onion since Sankranti paves the way for arrival of fresh crops. The government of India has assured the farmers and citizens that after Sankranti, the price of crops will go down bringing relief to the common man. India is a country of many religions and castes and the festival is celebrated in various ways across states. Taking a holy dip in the Kumbh Mela at Prayag is what dives millions of devotees each year to the holy city of Allahabad and this year too it was no exception.
A lot of people celebrate Sankranti by flying kites and this year a number of kite festivals have taken place on this festive occasion. There is a kite festival at Orissa and another in Gujarat. Within a few days, another Kite festival will start in Belgaum near Goa. This year noted actress Sonam Kapoor has made plea to the kite lovers to use safe kites during Sankranti to save the lives of birds.
Women in the households in various parts of India are busy making traditional Sankranti foods while some families are gearing up for their loved ones returning home from other states for the occasion. Indian Railways has arranged for special trains to handle the rush for Sankranti.