Celebrate Varamahalakshmi Festival 2010: Varamahalakshmi SMS
By Jayita, Gaea News Network
Friday, August 20, 2010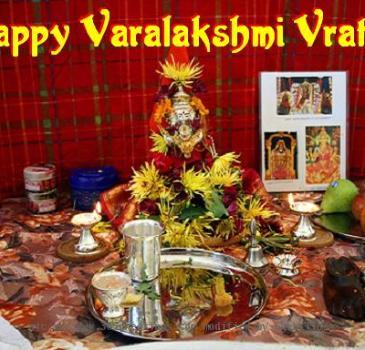 more images
Varamahalakshmi is a day to show devotion and offer prayer to Goddess Lakshmi. Lakshmi is said to be the Goddess of wealth and prosperity. So, Hindu women believe that performing Varamahalakshmi Vrata will bring fame and fortune to their family. With this sheer belief they are going to celebrate the auspicious Varamahalakshmi festival 2010 on Friday.
Varamahalakshmi puja involves worshiping of Lord Ganesha followed by goddess Mahalakshmi. Lord Ganesha is regarded as having the power of abolishing evil forces. Later, goddess Lakshmi is invoked into the sacred Kalasha, which is filled with rice. Fresh mango leaves, a coconut and cloth are placed on the mandala. Fresh fruits, grains, sweets are also used to decorate the Kalasha.
According some saint, varamahalakshmi vratam was first narrated by Lord Shiva to his wife Parvati in order to bring prosperity. Other suggest a story from which it owes its origin. A woman dreamed goddess Lakshmi asking her to do the vratam. She started doing the vratam along with other village women. As they completed the vratam, they were astonished to discover their body decked with precious jewelery and homes full of wealth. Since then Varamahalakshmi puja is being celebrated every year.
Varamahalakshmi SMS
I wish u Happy varalakshmi vratam and
I pray to God Lakshmi for your prosperous life.
May you find all the delights of life,
May your all dreams come true.
————————————————————————————————————————————————-
All good wishes to all women who keep fasting on this great occasion. Enjoy Varamahalakshmi and have fun
————————————————————————————————————————————————-
Maa Lakshmi app par apni kripa humesha banaye rahkhee.
Apko Varamahalakshmi ki Shubh Kamnaye
————————————————————————————————————————————————-
Wish you all a Happy Varamahalakshmi Vrata.