India Celebrates Viswakarma Puja Today
By Turjo, Gaea News Network
Friday, September 17, 2010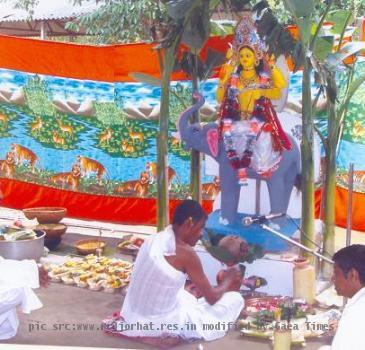 more images
NEW DELHI (GaeaTimes.com) — Entire nation has come together today to celebrate the Viswakarma Puja with pure mind and spirit. Lord Viswaskarma is a Hindu deity who is considered to be the god of architecture and engineering. So all the institutions, workshops or companies related to engineering and architectural works observe this day with great fesitvity.
Lord Vishwakarma is described as the son of Lord Bramha, draftsman of the entire universe and also the official builder of all the god's palace. Vishwakarma is also the designer of all the flying chariots of the gods, and all their weapons. It is myth that the Lord of Architecture constructed the Swargaloka (Heaven) for God Indra and others.
According to Vedas and Puranas, Lord Viswakarma has four hands, wears a crown, loads of gold jewelry, and holds a water-pot, a book, a noose and craftsman's tools in his hands.
The actual ritual of Viswaskarma puja takes place within the factory premises or shop floor, and the otherwise mundane workshops come alive with fiesta. This day is marked as a resolution time for workers and craftsmen to increase productivity and gain divine inspiration for creating novel products. Vishwakarma Puja is also associated with the buoyant custom of flying kites.
With this rapid age of modernization, Lord Viswakarma has entered the world of internet and cellphones. Now a days people has started greeting each other with sms and emails in this occasion. It seems even gods can't avoid the effects of globalization these days.
What's truly special thing about Lord Viswaskarma Jayanti is that this day in a way also marks the start of the festive season that is going to start from today and will culminate with Diwali. So be sure to enjoy this way fully with your family and loved ones. Happy Viswaskarma Jayanti!